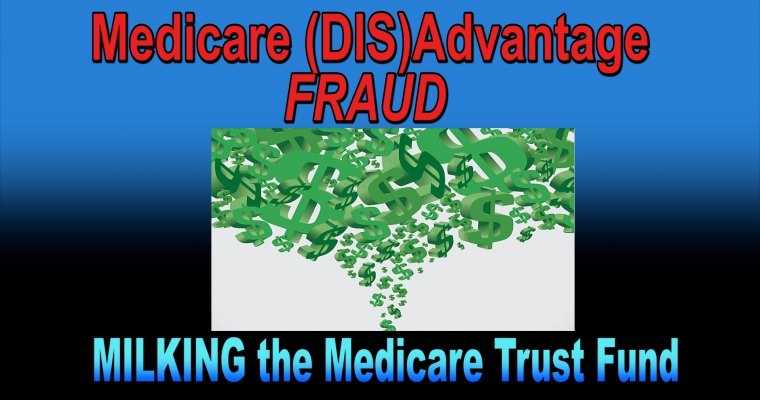 LISTEN
Medicare (DIS)Advantage Fraud: Milking the Medicare Trust Fund
The U.S. is the only nation that places profiteering middlemen between patients and their doctors. Since its inception, Medicare Advantage has been manipulated by corporate interests as an instrument for wealth transfer upward. The Office of Inspector General for Health and Human Services has reported that fixed monthly capitated payments made to Medicare Advantage on behalf of each patient perversely incentivizes inappropriate denial of healthcare in order to increase insurers' profits, costing the Medicare Trust Fund billions in excess dollars annually for Medicare Advantage plans.
For over 26 years Independent Insurance Broker Christopher Westfall has informed seniors about traditional Medicare and Medicare Advantage on the SeniorSavingsNetwork.org. Westfall relates that brokers are paid commissions twice as high to sell Medicare Advantage plans compared to traditional Medicare supplement plans. In his YouTube Videos, Westfall reports on Medicare Advantage fraud, including widespread misleading television marketing. False information to enrollees often fails to reveal that patients' doctor are not in a Medicare Advantage plan's network, exposing enrollees to substantial out-of-network costs. While traditional Medicare with a supplement plan maintains near full choice of doctors and hospitals and remains unchanged over the years, Medicare Advantage benefits and provider networks may change annually.
The New York Times reported widespread fraud committed by private Medicare Advantage insurers. The Times revealed that Kaiser doctors were offered bottles of Champagne and bonuses by insurers if they added additional illnesses to patient medical records, a practice called "upcoding" that siphons additional money from the Medicare Trust Fund. Congressman Dr. Greg Murphy, M.D. (N.C.) testified before Congress in 2022 about harmful delay and denial effects to healthcare resulting from pre-authorization requirements, another means employed by Medicare Advantage to increase insurance profits.
Former Insurance Executive and whistle blower, Wendell Potter describes commercial Medicare Advantage insurers' practice of "regulatory capture," achieved by pouring huge sums of money into legislators' campaigns in order to discourage any kind of congressional oversight or regulation of commercial insurers.
Published:
4/18/2023
0 Comments

Locally Produced:
Local Production
Theme:
Talk Radio, News, & Culture
License:
Attribution-NonCommercial-ShareAlike 3.0 Generic