FEATURED VIDEO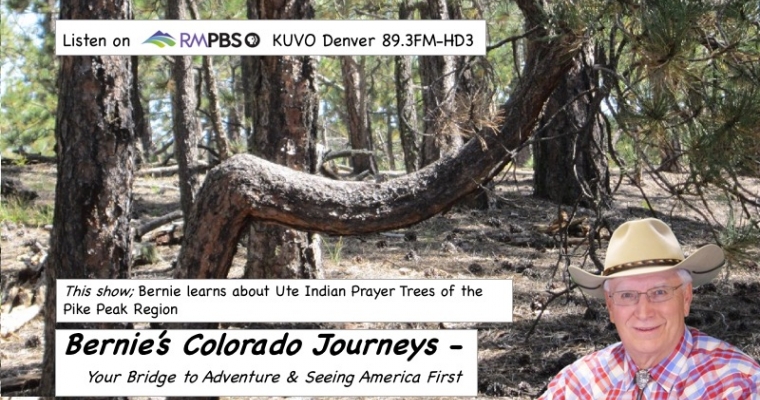 Bernie's Colorado Journeys; learns about Ute Indian Prayer Trees of the Pike Peak Region from author J. W. Anderson - show #1
Bernie explores the Pike Peak region for the living history of the Ute Indian nation. Bernie's Colorado Journeys is heading to the Black Forest area of Colorado Springs to interview John Wesley Anderson author of Ute Indian Prayer Trees of the Pike Peak region.
SERIES
Bernie's out west Journeys
Bernie is a former National Park Ranger, member of the Colorado Rocky Mountain Guides Association and a national RV industry travel speaker. Bernie's goal is to provide quality local programing of Front Range travel destinations, both natural and cultural, from Pikes Peak to Longs Peak.
As hard as I might I couldn't find a one stop-shopping outlet to learn about all the great places to explore on the Front Range. O-ya, a pamphlet here or a brochure there but I really wanted to peek behind the curtain and know what's going on, so Bernie's Colorado Journeys was born. I will "peek behind the curtain" of our great state so that residents and the tourist alike can experience our uniqueness, in the format of both original broadcasts and podcast archives.
Where is the Front Range? Geologists say that the Colorado Front Range extends from the Wyoming border on the north about 200 miles south to the Arkansas River (around U.S. Route 50), and from the Continental Divide on the west, to the open plains going east. That's a lot of ground to cover, and sometimes I will travel even further in the State to get a story!
Producer:
Bernie Jwaszewski
Theme:
Talk Radio, News, & Culture
MORE FROM Bernie's out west Journeys